Lake Pro Reports
(By Top Guides)
Lake Elephant Butte
Mimbres
Taxidermy
& Guide Service

Leisuretime Fishing Club
Our Club Co- Founder, Fishing Partner, and WebMaster Jim
at Ski Apache
Ski Area

The Spring 2000 Season is around the corner
We are sure getting fired up for the Spring spawning season this year. If you don't know already Elephant Butte Lake is rated as one of the top striper lakes in the nation. Our reputation comes from the fact that stripers grow to 50 pounds plus in this high desert reservoir. Check out Buddy's Fifty Pound Club.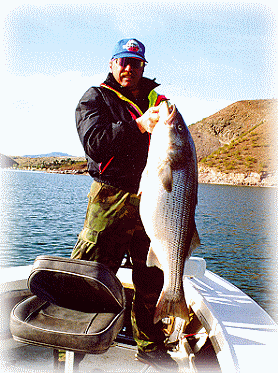 The prime months for the big fish are April and May with some early action in late March, depending on the weather. We will be posting weekly reports and giving you special articles on how to catch these monsters. The only revenue generated by this web site is from the guided trips that you book with me at the "Butte". If you would like a first hand lesson on catching big stripers and have a chance at that fish of a lifetime, give me a holler at . Our calendar is filling up fast so get your dates soon. I have a feeling that that 60 pound striper could come this year. Don't forget that we are fishing with giant topwater lures. You wont believe the size of the crash on the water as your rod is being slammed down with drag stripping unbelievable action. I'm looking forward to having you onboard. Good Catchin, Jake
Refer your questions and comments to: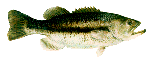 "Please Release Me"