September 6, 2005
Toledo Bend Fishing Report
Greg Crafts-Guide, Huxley Bay Marina and Lake Cottages
936.368.7151

www.toledo-bend.net/toledobend
The lake level is 163.9 msl, The lake has fallen two foot in the last month. High pool is 172 msl. SRA reporting both generators presently shut down. Water temp is running in the upper 80s. The water clarity on the north end of the lake is stained to clear (any wind will cause the shallow flats to muddy up and stain the surrounding deep water). Caution should be taken running the lake unless you are in the river proper. Not many places to launch a boat on the main lake. WeÕre still able to launch at Huxley Bay but itÕs limited to one launch, one boat at a time. ItÕs my understanding that the OilmanÕs Classic scheduled for August 9 has been cancelled. Note: Texas fishing licenses expired at the end of August.
Our hearts and prayers go out to all the victims of hurricane Katrina.
The low lake conditions have made it difficult for many marinas; landowners and tourist related businesses on and around Toledo Bend and the high gas prices havenÕt helped either. However, the low conditions have concentrated the fish along obvious patterns and have made locating the fish a lot easier. The last couple weeks all our fish have been coming off soft plastics either Texas or Carolina rigged and mid to deep diving crank baits. Some schooling activity has been occurring but most the fish have been small, so keep a trap shallow diving crank bait or top water plug handy. The schooling activity should increase as the water temp drops. The pattern is pretty simple. WeÕre working the shelf, ledges and ridges dropping into deep water, or main lake points dropping into deep water. The best areas are where the creeks, sloughs and ditches drop into the old river channel. These areas are easy to locate with the lake so low.
Looks like the bigger schools of White Bass and Yellow Bass have migrated towards the mid to south end of the lake with reports of good schooling activity along boat lanes and timberlines. On the north end of the lake weÕre catching a lot of Whites on slab spoons on the river sandbars but most the fish are small. With a little cool weather the Whites will start moving back up to the north end of the lake along the river channel sandbars.
I canÕt wait for a little cool weather, which hopefully will be just around the corner. All the fish, Black Bass, Crappie, and White Bass will start feeding like crazy preparing for the cold winter months to follow. With the low lake conditions, we should have a banner season barring any huge influx of water. A lot of people will be storing their fishing gear till next season and start preparing for hunting season but for the year round angler the fall can be some of the best fishing of the year.
For more information or to book a trip, please visit my website at www.toledo-bend.net/toledobend or give me a call at 936.368.7151.
Greg Crafts
159 Toledo Forest
Shelbyville, Tx 75973
gcrafts@bigfoot.com
936.368.7151
936.288.1486 cell
Mid Lake and South End
March 13 2005
Water Temp.~ 57* to 65*
Lake Level ~ 169.88
no generating at this time
BASS ~ Good. Start with a Carolina rigged sweet beaver in watermelon or green goby color in 8' to 12' of water. as day warms move up to 2ft to 6ft and throw a senko in 904 color or a chartreuse spinner baits. Remember to spray all your baits with Kick N Bass.
BREAM ~ Slow. On worms and Berkly Power Maggots over brush on edge of creeks.
CRAPPIE ~ Good. Around brush in 18 to 40 of water on shinners and 1/16 oz. black/chartreuse colored tubes. some moving shallow to spawn in 3ft to 6ft.
STRIPERS ~ Good. Use electronics to locate bait fish along flats in 14' to 30' of water. Then use live carp in these areas.
CATFISH ~ Good. In 6' to 12' of water on Catfish Charlie and liver around shallow flats towards the backs of creeks on liver.
WHITE BASS ~ Good. up river the annual migration is in full swing Roadrunners and of course live crawfish working best in back waters off the river.
DARRELL LYONS
RR1, BOX 1511
HEMPHILL,TX. 75948
409-625-4585
http://WWW.TOLEDO-BEND.NET/GUIDE

---
I have fished Toledo Bend since its inception in the early sixties. I live on the lake and have been a full-time licensed guide since 1993 spending over 200 days a year fishing Toledo Bend. Toledo Bend is the largest man-made lake in the South. It was the largest in the world when it was originally constructed in the late sixties. It covers over 186,000 square acres, and is over 80 miles long. If you stretched the shoreline out it would run from New Orleans to New York. I operate out of Huxley Bay Marina on the North end of the Texas side of the lake, which is approximately 20 miles east of Center, Texas and 20 miles south of Logansport, La. It is one hour from Shreveport, La., three and half from Dallas or Houston. Huxley Bay Marina has a deep-water boat ramp for accessing the lake during low water conditions. Many feel the north end of the lake is the premiere fishing area and the majority of the tournaments are won with fish coming from the north end of the lake. I specialize in fishing for black bass year round. The limit is eight bass per person with a 14 inch minimum length. I also fish for crappie, white bass, and bream and maintain over 100 brush tops on the old river channel for crappie. The crappie season begins in the middle of October and runs through January. We have a creel limit of 50 crappie per person per day with two pounders not being unusual. The white bass run starts in late February and runs through April with plenty of schooling action in the summer. The creel is 25 per person per day. The bream spawn starts in April and runs through June with catches of 700 to 1000 per day not being unusual. I also conduct guided trips for bow hunters seeking that 100 pound plus alligator gar in the spring and summer. I operate a 20ft. ProCraft 200 boat and can accommodate two guests comfortably. Guests are encouraged to bring their own equipment, although all tackle and equipment may be furnished for an additional $25 fee. I will contact you a few days prior to your trip and inform you on the most productive baits if you choose to acquire them from your supplier, or the marina usually has a good supply of tackle. Whether you are a novice just learning to fish or a professional looking for tournament fish, I'll try my best to accommodate your fishing needs. The cost for a guided trip is $250 per day. I'll be happy to provide you with information for your trip and lodging available for any size group from luxurious, private lodges to moderately priced accommodations. I can also arrange for additional professional guides and transportation at a reasonable fee if you fly in by private plane. Either a Texas or Louisiana residential license applies for the whole lake. A non-residence temporary 5 day license costs $20 and a one year non-residence license is $30. Licenses are available nearby.
Email your comments and suggestions to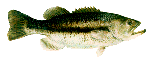 "Please Release Me"