10% discount at
Sun Valley
Fiberglass
for mentioning
Armstrong
Outfitters


Lake Toledo Bend Profile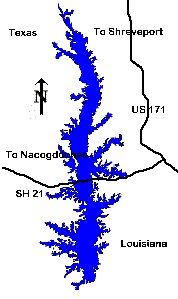 This gigantic impoundment on the Sabine River was completed in 1966. Along with this big river, with 75 creeks, make for the 5th largest lake in the United States, and the largest lake in Texas bordering two states. With 185,000 surface acres it extends up from the dam 65 miles and has 1250 miles of shoreline. The lake has a average depth of 42 feet, with the deepest point 110 feet. This lake was built without the help of the Federal Government, and is for public water conservation and hydroelectric power. This is another impoundment governed by the Sabine River Authority.
With its long history of great largemouth fishing, Toledo Bend also has a good population of stripers that have grown to monster size.
Location
This lake is located on the Texas Louisiana border with the access from Texas out of Nacogdoches, east on SH 21 or from the Louisiana side south, on US 171 South out of Shreveport.
Fishing Regulations
Same as statewide.
Comments
We have fished the Bend for several years, in fact it was a favorite with my mom and dad. To say the least it is a huge lake that has some fantastic bass fishing and a bonus of huge stripers. We have not fished for the stripers on this lake but sure plan to in the future.
This is a relatively clear lake for Texas standards with the clarity as much as 8 feet. With miles of shoreline you have everything from rock, clay banks, and big east Texas trees. With this lake so big we defiantly recommend booking Greg Crafts for a trip, especially if it is your first trip to the Bend.
Facilities
Marinas include Huxley Bay Marina (409-368-2494) Shamrock Marina & Lodge (409-625-3722) and Playcation Marina (409-625-4865) and two parks, Holly Park (409-625-4424) and Frontier Park (409-625-4712)
Fishing Tip
This Lake is so big you have your choice of fishing country from cut banks, to miles of flooded and submerged timber, brush piles, and extensive beds of vegetation (hydrilla). If you are fishing for largemouth there are two main techniques to use, either fish the submerged timber or fish the extensive hydrilla beds. Top lures are soft plastics, spinner baits, and topwaters. One of our favorite times for fishing the largemouth is in the fall when the water cools and the fish move shallow with surface baits, stick baits, and spinner baits topping the list.
Striper fishing in the bend can be mostly in the deep water river channel except, when the powerplant runs for more than a day, you will find them packing up around the warm water discharge, and can be had by drifting a live bait into the restricted zone. The stripers do not reproduce in the Bend, but they go through the creek and river migration every spring, and a good bet is a jig or live bait.
Lake Records & Ratings.
Species
Record
Rating
Largemouth Bass
14.50 lbs.
Striped Bass
38.75 lbs.
White Bass
4.25 lbs.
Hybrid/striped bass
15.81 lbs.
Flathead Cat
97.50 lbs.
Links
Texas Parks and Wildlife ~ Fishing Report

Bass Fishing Home Page ~ Texas Lake Reports

Texas Parks and Wildlife ~ Regulations
Lake
Toledo Bend
Fishing
Information
---
Email your comments and suggestions to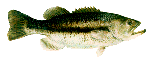 "Please Release Me"