10% discount at
Sun Valley
Fiberglass
for mentioning
Armstrong
Outfitters


Lake Ray Roberts Profile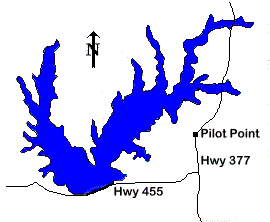 One of the Dallas-Ft Worth metroplex most popular bass fishing destinations, Lake Ray Roberts is a trophy impoundment with a variety of excellent bass, white bass, catfish and crappie habitat. A combination of creek channels, drop-off, humps, hydrilla, and vast flats has led to the fast growth of fish populations. The lake consists of two arms with the East arm a maize of standing timber jungles and huge hydrilla beds which is a favorite home of trophy largemouth and the West arm where the deep river channel works it's way south to the dam. A unique lake to Texas the whole lake is a state park with a total of 5 launching ramps and one marina with no other development except state parks with camping, fishing, hiking, and equestrian facilities.The lake is 29,350 surface acres and was impounded in 1987.
In it's twelfth year Ray Bob is fast becoming another Texas top big bass lake.
Location
The lake is located 12 miles north of Denton TX on the East side of Interstate 35 outside of the town of Sanger, TX. Exits off of I35 are 922 at the town of Valley View, 3002 south of Valley View and 455 at Sanger. Closest towns on the West side of the lake are Pilot Point, and Tioga. 58 miles North of Dallas.
Fishing Regulations
Largemouth bass -- five fish per day, all at least 18 inches long. All others same as statewide.
Comments
A great accomplishment of stocking programs, state management and awareness on the part of anglers of catch and release, has led to one of the finest and potential top largemouth fisheries of the decade. Being a relatively young lake it has a large population of largemouth in the 3 to 9 pound range with it's share of 10+ fish.
Best largemouth territory is the creeks on the North West side of the East arm. Walnut, Wolf, Indian, and Isle Du Bois creeks with their standing timber, points, creek channels and hydrilla are prime targets for bass. Also the hydrilla beds that first appeared in a small patch in 1992 now stretch from the back of Isle Du Bois creek south to Wolf Island. The huge flats with hydrilla on the west side of Wolf Island and the underwater RR tracks off Buck Creek are also a good bet for Largemouth.
Also the fishing for Crappie on the Corp brush piles in the south end, the excellent white (sand) bass, and catfishing lake wide make for great catchin' whatever you are fishing for.
Facilities
Boat launching ramps include Jordan Park outside of the town of Pilot Point, Buck Creek north of Pilot Point on Hwy 377, Isle Du Bois State Park accessible from Hwy 455, Pecan Creek Hwy 3002 and Johnson Branch also off 3002. Hwy 3002 is off of Interstate 35. These are all state parks with a fee for parking or entering. There is also a marina on the West side of the West arm the Ray Roberts Marina (817-458-7343) off of hwy 455 which is also off of Interstate 35. Both Isle Du Bois park and Johnson Branch park are camping/RV parks with full hookups and beautiful camping sites with hiking trails, playgrounds, launching ramps and swimming beaches. Be sure and make reservations well in advance with the Texas Parks and Wildlife Department at (817-686-2148). There is approximately 3200 acres of sites between the two parks and this is the first season for Johnson Branch
Fishing Tip
Try the flooded Corp brush piles (Army Corps of Engineers brush clearing in the lake bottoms before the lake filled) in 15-30 feet of water to catch a mixed stringer of species -- black bass, crappie, white bass, Largemouth --on live shad, or minnows. For black bass, depending on the time of year a med to large (6"-9") T-Bone gizzard shad on a flipping rig flipped or cast to shoreline cover, a flat line with a balloon drifting the extensive Hydrilla beds, and in the heat of the summer a 4" to 5" threadfin shad on a down line while fishing the deep water points works well. The huge population of white bass can be a day's worth of fun and they hang out on Main Lake Point (Cates Point & MLP) and off Johnson Branch islands from late spring through the summer. These White's (Sand Bass) will wear out a tank of small gizzard or threadfin shad fished with a downline right off the bottom. Also late in the evening they like to school up chasing shad. Throughout the late spring, summer, and fall the massive hydrilla beds offer a perfect environment for largemouth. Best spots for the hydrilla beds are at the mouth of Indian and Isle Du Bois creeks and on the west side of Wolf Island all the way to the mouth of Wolf creek. Main Lake Point, the main point at the juncture of the two arms of the lake, is a long point that runs from a average depth of 10 to 15 feet out to 40 feet and drops off into 50 to 60 feet. This point is a good structure break where all species of fish like to hang out especially in the summer. The top artificial lure on this lake is a carolina rigged soft plastic over any other lure. In the spring a buzz bait and a shad assassin will also get you a lot of bites. Summer when the fish go deep try the main points with a jigging spoon or a carolina rig with a pumpkin seed or watermelon french fry (centipede). Some nice big fish have come in the heat off of the main points in deep water, as much as 50-60feet. These deep fish are a fairly easy prey with a jigging spoon or and shad imitation. With the huge population of sandies look for the birds in the evenings and at the mouth to almost any cove and fish with a little george, jigging spoon, small shad assassin, or any crank bait and catch them one after the other. These sandies also like to get in some deep (30feet) water and hug tight to the bottom.
Lake Records & Ratings
Species
Record
Rating
Largemouth Bass
14.59 lbs.
Spotted Bass
3.40 lbs.
White Crappie
3.09 lbs.
White Bass
3.12 lbs.
Channel Cat
16.30 lbs.
Flathead Cat
47.78 lbs.
Links
Texas Parks and Wildlife ~ Fishing Report

Bass Fishing Home Page ~ Texas Lake Reports

Texas Parks and Wildlife ~ Regulations
Lake
Ray Roberts
Fishing
Information
---
Email your comments and suggestions to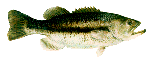 "Please Release Me"