"Raw Thumb" article, As Prepared by Armstrong Outfitters Professional Guide Service.
Kirk R. Armstrong
817-821-5407
Proudly Sponsored by: Big Bag Bait Company, Fun N Sun Marine, Champion boats, Mercury Outboards, James Wood Chevrolet, Mad Man Mooneyham Lures, Sun Valley Fiberglass, Patriot Spinnerbaits, Kick N Bass, Coverlay Manufacturing, All Star Rods, Shimano Reels, Bass Pro Shops.
"Winter, Not Fishing?…Prepare!"
Kirk R. Armstrong
December, 2001
This year's Holiday's have been tragically shadowed by the events of September 11th. While you sit down to Christmas dinner with your family this year be sure and take a moment in prayer to be thankful for all that Our God has blessed you with and especially for those who lost loved ones in these tragic unfolding of events. My hope is for the children that lost parents. I am confident that God will sooth their souls and give the peace that passes understanding, that their lost mothers or fathers are in heaven with our Lord.
The months of November, December & January are usually months of preparation for me. Covering the old Bass Boat with the cover and hooking up the battery charger is a far cry from being prepared for next spring! For those of you who have been needing Fiberglass work done, Call Sun Valley Fiberglass in Burleson, Texas, just South of Fort Worth. Tell'em you heard about them in the Raw Thumb article and you'll get a 10% discount on services! Their number is 817-293-9568 the boat below is 3 years old and gets detailed 2'xs per year by Sun Valley!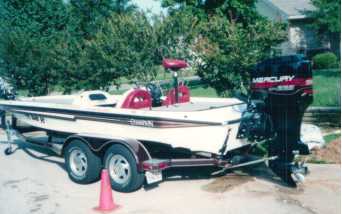 1999 Champion 203 DCX
First off let's look at some of the basics. Try cleaning the ole' barge up a bit. Vacuum it out, hit the hull and top cap with a light-rubbing compound and then wax it. This will pay off greatly when your first spring trip arrives and your boat is in tiptop visual shape. Also, by finely "detailing" your boat you will come across things that need attention. I have found a clean, safe, organized boat makes me a better fisherman as it provides me with more confidence. When I know my equipment is ship shape then I can concentrate on fishing more.

Tackle – After a season of fishing, your tackle and gear is probably in need of organization. Plano boxes or tackle boxes are in disarray and crank baits are mixed with spinner baits and so on. Organize each or your lures by the frequency of use. Rattle traps all together and ready in one box for the spring spawn. Half-ounce spinner baits ready for slow rolling in the spring, all boxed together with your favorites ready and waiting. Check the skirts, tune the arms, take those nasty trailers off, clean the spinner bait hooks with a wire brush, change hooks on your Rattle traps, etc. I like to organize everything in Plano boxes from Bass Pro Shops and write what is in them with a Sharpie magic marker on the front edge. That way when they are sitting upright in my boat I can see what is written easily.

Rods – Checking your rods is very important. Look at all the line guides and check for cracks or missing ceramic rings. Cracks or burrs will fray your line and can result in the loss of fish this spring when the big'uns are sure to hit! Make sure rod tips are secured and replace them if necessary. To change a rod tip just heat the tip with a lighter until the glue melts and pull it off with a pair of needle nose pliers. Then heat a hot melt glue stick and replace with a new tip. Be sure reel seats are secured. Check to see if the threads on the reel seat are biting the way they should and the screw ring screws up and down the seat correctly. I use All Star rods out of Houston, Texas. Mainly because they are guaranteed for life and any problem I have that I cannot fix I can exchange the rod through them directly or exchange it with the retailer where it was purchased. Not to mention that their rods are the very best on the market for the money. Lastly clean the rod with Simple Green cleaning solvent and wipe it down with Armor All. The cork handle will look like new and the rod will shine like a new dime. The Armor All is only for the rod not the handle and will aide in reducing line friction through the guides as well.

Reels – Most reels are very simple to maintain. However, general maintenance is something that usually takes a back seat to the amount of abuse we put them through. Check the worm gear that goes back and forth on the line guide. Be sure it's operation is clean and smooth. Take a soft bristled toothbrush and clean the area with gun solvent and then lube it with some fine reel grease. Next take the side cover off and check the reel gears and make sure the teeth are all in tact and the gears have ample grease. Magnets and brakes should also be in tact and if they need replacement then do so. Pull the spool and be sure there is no obstruction or grunge to interfere with the retrieval of the line. Then spool the reel up with new line and spray it with Reel N Line Magic and keep it covered with a rag or the bag that came with the reel. I have found that Crown Royal bags work well for this.

Boat - Basic Winterizing is VERY IMPORTANT. Start out by changing your lower unit oil. This is basically where the "rubber meats the road" so to speak. All of your engines power is here, thus all of your wear and tear is here also. Check the prop for tightness to the shaft only after you have taken it off and cleaned the hub from fishing line, grass, dirt, etc. A fine metal file will also work to take out any nicks or burrs on the prop blade that will reduce power and performance. Drain the lower unit oil and replace it with the factory recommended oil. Check all your steering cables and throttle cables. Pull your spark plugs and decarbon the cylinders with a spray solution you can get at your local marine dealer. Then replace the spark plugs as needed, if you replace one, replace them all! Replace the fuel filter whether it needs it or not. If your boat is going to sit for a long time until spring run the tank dry and treat what little fuel that is left with a wintertime fuel additive. Be sure ALL THE WATER IS DRAINED FROM the lower unit to prevent damage from freezing. Remove all electronics and keep indoors until you are ready for use. Check water levels on batteries and put a slow trickle charge on the system for the remainder of the time the boat will be sitting. I like to keep the charger inside the battery compartment if it will fit as this gives off some heat while it is charging and will "warm" the compartment and keep things from freezing. Check your trolling motor for ANYTHING that may need to be repaired or needs maintenance. Grease or lube the bracket where the upright and down position locks click into place. Replace broken or weathered switches. Check power deck buttons and then disconnect the moter from the plug in as it will draw amps just sitting there. Lastly I like to check all live well and bilge pumps for proper operation. Take the covers off and lube the pump mechanism with petroleum jelly or marine grease. This will insure safe and proper operation in the spring.
In closing I want to leave you with some thoughts about "Preparation." Prepare now and you will have longer and more successful fishing days in the spring. We all know how a bad day on the water can start from equipment problems.
All you have to do is "Prepare" and your fishing days will be the best ever!
Until next time, be safe, smart, and God Bless, "Raw Thumb"
Return to Armstrong Outfitters Articles page
Return to Amstrong Outfitters Home page