"Raw Thumb" article, As Prepared by Armstrong Outfitters Professional Guide Service.
Kirk R. Armstrong
817-821-5407
Proudly Sponsored by: Big Bag Bait Company, Fun N Sun Marine, Champion boats, Mercury Outboards, James Wood Chevrolet, Mad Man Mooneyham Lures, Sun Valley Fiberglass, Patriot Spinnerbaits, Kick N Bass, Coverlay Manufacturing, All Star Rods, Shimano Reels, Bass Pro Shops.
"Spinner Baits and Buzz Baits, The art of Fishing the Blades!"
Kirk R. Armstrong
May, 2002
I do not think there is a bass fisherman alive that has not thrown a spinner bait or buzz bait in the pursuit of a Lunker Large Mouth. These two baits are not only some of the most productive but probably the most exciting. I think this is mainly due in part to the sight factor of the bass being seen most of the time hitting both baits. To me there is NOTHING more exciting than the sound a big bass makes when it voraciously attacks and inhales a buzz bait. One of the best descriptions I have ever heard is that "it sounds like somebody dropped a sack of cement on top of the bait!"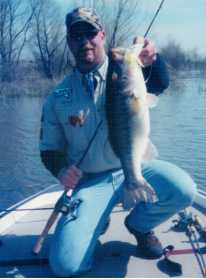 Texas lakes are great for slow rolling spinner baits and buzz baits in, through and around heavy cover for big bass. Nighttime fishing with the same baits is a norm that is as addictive as candy is to a child. YouŐre anticipation as the bait come clacking by a stump or as the spinner bait comes rolling over a log...itŐs enough to drive you nuts just thinking about it. Lakes like Ray Roberts, Fork, Lewisville and Texoma are great spinner bait and buzz bait lakes. Before we talk about how to fish these baits, letŐs talk about what features are important in a good spinner bait and buzz bait.
| | |
| --- | --- |
| 1. | Sampo swivel for blade rotation. You get what you pay for here and a Sampo is the way to go for the best blade rotation. |
| 2. | Quality blades with a bright polished finish on them. |
| 3. | Quality paint on the head with "living eyes" and a solid clear coat. |
| 4. | Strong sharp hook like an Owner or Mustad Needle-Point for quick penetration and lasting hang time. |
| 5. | Strong wire that takes a beating but the bait can be tuned and bent back into shape after getting hung or catching an aggressive fish. |
| 6. | Wire must also be thin enough to produce necessary vibration as blades turn in the water. |
| 7. | Bright colorful "living" skirts with realistic appeal, durability and color matches. |
| 8. | Manufactured well enough to meet all my requirements to give me CONFIDENCE in the bait which gives me CONFIDENCE in my fishing. |
There are many different companies the produce a variety of spinner baits and buzz baits. Most of which are "good enough" to get the job done "most of the time." In my fishing business and in my tournament fishing I canŐt gamble on "most of the time" and "good enough." I need consistency and for that consistency I go to Patriot Lures, www.PatriotLures.com, which are made right here in Texas. These baits not only meet my needed requirements but also exceed all of them.
| | |
| --- | --- |
| 1. | Sampo swivel for blade rotation. All baits have Sampo bearing swivels. |
| 2. | All blades have quality brass and nickel alloy blades. |
| 3. | All baits have are sprayed with quality nylon paint and double clear coated over the large "living" eyes. |
| 4. | All baits have Owner or Mustad hooks for penetration and hang time. |
| 5. | Not only is the wire strong and durable it is a reduction gauge from blades to head. (The wire size at the head is a heavier gauge than the wire at the blades, hence strength and vibration!) |
| 6. | With the reduction gauge wire Patriot spinner baits have more vibration than ANY other spinner bait I have used. |
| 7. | Dupont Lumaflex skirts "dress" all of PatriotŐs lures and are not the conventional 40 strand living rubber skirts, which melt, break or just fall off after prolonged use. These skirts are made out of industrial elastic which is woven into each strand, 60 to 80 strands per skirt with a Patriot Lure. These strands also absorb liquid. This not only means that they become alive in the water and move as the water around it movesÉbut the skirt also absorbs scent attractants. |
| 8. | These baits are DEFINITELY manufactured well enough to meet all my requirements to give me CONFIDENCE in the bait, which gives me CONFIDENCE in my fishing. |
How to fish a spinner bait or buzz bait.
These baits will catch fish if they are just thrown out arbitrarily and retrieved at random, as will any bait. They will also catch a lot more fish if thrown around heavy cover and grass and retrieved slowly, stop and paused briefly, ripped over grass, etc. The key however, is to listen to what the first few fish tell you. Did the fish hit the lure as you were ripping it over the surface and banged it into the tree or did she hit it as you waked the spinner bait just under the surface and then let it fall in front of the grass line, or was it when you brought it through the top of that cedar tree or over that log, or through cut in that bank, etc.
Vary your retrieve and pay close attention to each fish you catch. Each one gives more information that leads you to putting together a pattern and relating to what they (the fish) want. Many of us fish with a friend or two in the boat. Tie on a 3/8 oz buzz bait, 3/8 oz spinner bait and a _ oz spinner bait and pay attention to the results of each. DonŐt ever start out with all the same baits unless you have already established a pattern. All of them may catch fish but one will out produce the others most of the time. Build your pattern by establishing variables to the equation. Then narrow it down from there. Remember a little "common sense" goes a long way...even for us hardheaded bass fisherman!
When fishing a buzz bait or spinner bait in open water over grass or around standing timber or on a flat, I will ALWAYS put an over sized "stinger" treble hook on the back. I have lost very few fish this way and the treble when rigged properly, will fit with the hook right in the middle of the trailer I have on either bait. For example the top hook of the treble will be at 12:00 and the bottom two hooks will be at 4:00 and 8:00 respectively. The split-tailed Zoom trailer of the bait will be on either side of the 12:00 positioned hook. For Heavy cover a standard stinger hook is the norm with my trailer attached to the main lure hook. Rarely do I ever fish either bait w/o a trailer hook of some sort!
These baits are one of our few "staples" to our never-ending pursuit of "The Lunker." Using these baits properly is half the battle. Using the best baits with something different over the competition is the other half. Catching a fish on any of them is a God given BONUS.
After all if somebody dressed a T-Bone Steak in a skirt and ripped it through your kitchen would you eat it!!!???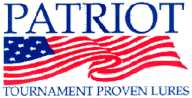 Yeah, You Would!!!
Until next time, be safe, smart, and God Bless, "Raw Thumb"
Return to Armstrong Outfitters Articles page
Return to Amstrong Outfitters Home page