"Raw Thumb" article, As Prepared by Armstrong Outfitters Professional Guide Service.
Kirk R. Armstrong
817-821-5407
Proudly Sponsored by: Big Bag Bait Company, Fun N Sun Marine, Champion boats, Mercury Outboards, James Wood Chevrolet, Mad Man Mooneyham Lures, Sun Valley Fiberglass, Patriot Spinnerbaits, Kick N Bass, Coverlay Manufacturing, All Star Rods, Shimano Reels, Bass Pro Shops.
"Cold Water Bass Fishing"
Kirk R. Armstrong
November, 2002
Old man winter has arrived a bit tardy this year but I predict He will make up for lost time. At the time of this writing we are preparing for Turkey Dinner and Pumpkin pie and the fellowship with friends and family that accompanies it. The only thing more disappointing to a Bass fisherman other than having a Trophy fish jump off is waiting to go fishing and a cold front pulls through the night before your intended trip. You gripe and complain and talk your buddy into going with you knowing full well your day will be limited to more conversation than catching. Guess that's why they call it hunting and Fishing instead of Catching and Killing!
Usually accompanied by blue bird skies and distinct pressure changes cold weather fronts can change the fishing considerably to the negative unless you re-group and concentrate your efforts towards those changes. Cold fronts are a normal part of fall, autumn and winter. The only big difference is the impact of each front based on the time of the year. For example a front in October may be far less of an impact than one in December.
As we all know pre frontal conditions are optimum for fishing and the any Bass angler worth his / her salt has had days when "we just slay'd 'em" due to an on coming front. After the front hits I challenge you to try and locate the fish you caught a day or two before. Shallow bass have gone deep and structure fish are suspended or nowhere to be found. You cast and crank and flip and hop and crawl and cast over and over and over. I have fished for my entire 39 years with the earliest known picture of me on a fishing trip I was in a baby seat sitting next to my father on some remote pond in Duluth, Minnesota catching perch and crappie. I am still amazed at how easily I can convince myself that the next cast will catch one. However, in any tournament situation it is always the next fish will be 8 pounds or better, you ever noticed that? Bass fishermen in particular are one of the only breeds of outdoorsmen that have the patience to stay out all day long for one bite or less.
Fret not my dear angler. Bass can still be caught during these times if you change your fishing to the weather. First you must know where to look. I like to concentrate on obvious heavy cover. If I have been catching fish in an area a day or two prior to the front I look for the areas that have the most obvious cover and start there. If that does not work I will move out and use my electronics to locate deep structure or drop off or something that the fish can gravitate to. Very rarely have I found the fish gone completely. They are there just not as active or aggressive.
Another key process for me during frontal conditions is to SLOW DOWN. If I was in an area catching fish on a spinner bait the day before then I will go to a tube or jig or change up the blades on my spinner bait for a bigger thump and a bigger bite. Try yo-yoing a spinner bait instead of a flat retrieve or try flipping the spinner bait like a jig?! The new Flip n Spins are great baits for this; this is a combination jig with a spinner bait blade attached to it. You can make one of these with any conventional jig by attaching a swivel to a blade and sticking the hook point through the opposite end of the swivel. Then secure the blade with a piece of tube from a trailer hook set up or an old piece of worm.
Another great area of cover for me during postfrontal conditions are rock like rip rap, chunk rock or concrete boat ramps. Mainly anything that will hold heat and cause the bait and predatory fish to gravitate to it. I have even seen the sun reflecting off the sides of tin boat laden boathouses hold fish on the coldest of days. Sea wall that sit directly in afternoon sun can hold fish well too. Be careful when seeking fish out in these kinds of areas, as they will be easily spooked. Pull up slow and use your judgment by studying the area before making a cast. Look for dark shapes in the water or if it is clear look for fish suspend around or in shallow cover. I like to make long casts with a variety of slow moving baits like worms, jigs, tubes, or slow retrieves of crawling a spinner bait or slowly retrieving a suspending jerk bait or crank bait.
Slow falling baits like trick worms, flukes and bubble jigs are great for this type of fishing. I also like to use baits or spike the bait with BRIGHT colors like pink, chartreuse, orange or yellow, etc. I think this gets a better reaction strike from lethargic fish. I have a large leather needle in my tackle box that allows me to thread strands of bright colored skirts into jigs and spinner baits and there are many dyes on the market that will assist with soft baits. Inexpensive plastic tubing can be purchased in a variety of colors and can be cut to size and fits perfect over treble hook shanks. This has many times been the difference in an empty or full live well during a tournament. What's a bubble head jig? Many jig manufacturers are producing a buoyant or slow falling jig heads by impregnating the head with Styrofoam or air. This causes a VERY reliable morsel like a jig to fall EXTREMELY slow around all of the aforementioned cover. Thus the bait is in the strike zone of a lethargic cold front bass a lot longer.
Many times repeated casts to the same areas are all it takes to entice a hungry cold bass to strike. Then other times it takes changing out to slower lures or even down sizing to a smaller offering. Keeping your eye on your electronics is key; as bait fish and bass will bunch up just outside where you may have previously caught them. Find this school and you can usually pick it apart by culling out the hungry more active fish. As you catch fish from the school they will emit pheromones that will eventually cause the other fish to turn on.
Everyone admits that fishing after a front can be tough but incorporate a few of these techniques and approaches and I guarantee your catch rate will increase. Have a safe Thanks giving and God Bless You and Yours.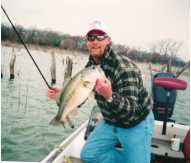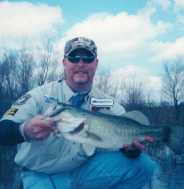 Until next time, be safe, smart, and God Bless, "Raw Thumb"
Return to Armstrong Outfitters Articles page
Return to Amstrong Outfitters Home page